The ferry from Portsmouth docked in Santander at 0800.Santander is an interesting port to arrive into as you slowly approach up a small estuary with great views of city, and the lights were still twinkling in the early morning gloom.I trundled off the ferry among the lorries and other campervans and stopped on an area of quay rutted with rusty rail lines in order to allow my satnav to find its location. Conscious of the potentially huge distances ahead of me over the coming months I had decided to break myself in gently and take it easy on the first day, and head for Burgos, which was a modest drive of 140km ,meaning I should expect to get there later that morning. I have envisaged myself staying in basic locations a lot as the van is fully equipped but today I have decided to break myself in gently and go for a proper campsite for the first night. When the satnav woke up I was able to find the that campsite which I had researched was already there on it as a POI(Point of Interest),so setting the destination was easy.

Almost immediately ,as I was on a dual carriageway leaving the suburbs of Santander,the first snag appeared. It was raining gently and ,while driving , somehow I lost a section of windscreen wiper arm, from the driver's side ,which disappeared on a section of road where I couldn't stop.(How on earth?-had someone bent my wiper on the car deck??)The wiper was just about surviving so this cemented my previous plan to take the A road ('N' road in Spain), as opposed to the motorway ,so I could stop easily if I needed to make running repairs.This seemed the most direct route anyway.

In retrospect I was glad that I took this route as it turned out to be interesting and scenic, with several climbs/descents round hairpin bends to reach 3 consecutive summits over some hills at an altitude of about 1040metres ,where there was a little surprisingly still snow on the ground. This provided a bit of tension as I had chosen the route from my road atlas without much thought as to the terrain it might cross and was surprised and slightly alarmed, given my newness to driving the van abroad, to find myself on a winding hill road which headed up into an area where there was still snow on the fields.In fact at one point as the mist came down near the summit,with steady drizzle and with snow all around on the land adjacent to the road I wondered if it might start snowing ,and whether the route might be open ahead, not knowing exactly how high the climb might end up being. My dashboard thermometer had slowly dropped to 2 degrees as I climbed .But the road itself turned out to be fine all the way through, and eventually crossed an attractive and wild-looking plateau shortly before Burgos, before descending slightly to the city.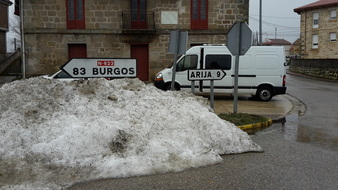 Signs of recent heavy snow on the N 623 to Burgos
And so into Burgos, the ancient capital of the kingdom of Castile and home of El Cid.

On arrival, passing a San Miguel brewery, I found a large Renault dealership in the industrial belt without trouble(thanks Google)an hour before they closed for the weekend ,at lunchtime.Wandering in I waited a while at the desks but the two dealers seemed to be engaged in protracted sales negotiations with clients so I tried the workshop itself where one of the mechanics fortunately spoke English and helpfully dropped what he was doing to sort me out. While they didn't have the right wiper arm in stock he located one in the local trade suppliers ,and I was very impressed and gratified to see an employee from there arrive by car after 5mins,with 2 new wiper arms.I was so relieved to have the problem sorted so efficiently that I tipped the mechanic 10 Euros.

I headed for my planned campsite ,Camping Fuentes Blancas,and checked in .It was pretty empty but there was a core of about ten campervans, mostly British, presumably in the process of transiting to and from the ferry like me, and the were also some cabins, a number of which were occupied. The site is on the bank of the river, and from it there are paved cycle routes and paths along a wooded river-bank, which penetrates right into city centre ,a walk of about 3km,and this seemed to be a popular recreation area which was being used by quite a few people either jogging or walking their dogs.

Burgos is currently a candidate city for European City of Culture, but although having a very pleasant old centre has also some huge bleak industrial and high-rise housing estates.The main gem is the Unesco World Heritage site of Burgos Cathedral which is 14th Century, and the earliest Gothic cathedral in Spain,built on the site of the earlier Romanesque (Norman) cathedral that El Cid would have known. I decided to give the not very thrilling sounding Museum of Human Evolution a miss,but it was a pleasant sunny, but cool, afternoon for a walk around the historic city centre. The central square (Plaza Major)was attractive and colourful, though would have looked better on a hotter day, as it is far too cold here for street cafes to have tables outside yet. Sitting between the river and the old city centre is a huge statue purporting to be El Cid. Perhaps it is authentic but having grown up with the famous film of El Cid in my mind ,starring Charlton Heston, the likeness looked incongruous.




Panorama view of Plaza Mayor