Not so much travelling was needed today.The first thing to sort out was to get the spare wheel removed.I now suspect that the underslung spare wheel that I had fitted at Rockhampton garage is the cause of the fractured brake line.When first fitted ,there seemed plenty of clearance,but checking this morning under the van I noticed that the spare wheel was now resting alarmingly against the new brake line,and even though it was fixed in place would be transmitting considerable vibration through it. I took the wheel out but had to call in at yet another garage to use their inspection pit to swing the cradle down and remove that too.This took a bit of effort, and I cruised around a few industrial estates till I spotted a lorry and van depot that I though might have an inspection pit. It took a bit of explaining but in the end one of their mechanics drove the van over the pit and I swung off the cradle off and stowed it inside. I wasn't charged anything.

Luckily I have a tarpaulin on board and plenty of bungee cord so I now have a big parcel on the floor of the van. Actually I wonder if I need to keep it aboard when I return home, as after all, when was the last time you had a puncture?, and these van tyres are so thick. But I can't ditch it now and it might just come in handy,so it will have to live in the van-a bit of a nuisance but it's do-able. Certainly better than getting another brake failure.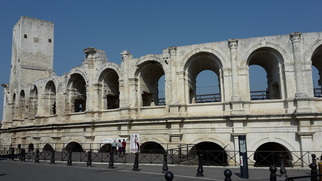 After sorting this out I headed the 30km south to Arles, the unofficial capital of the Camargue (the Rhone delta), and one time home to Vincent van Gogh. Unesco lists the Roman and Romanesque (10th century) monuments of Arles a world heritage site. Notably , there is a Roman amphitheatre, which held 20,000,and it is still used for shows, and also a semi-circular Roman theatre seating 10,000.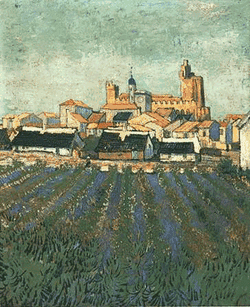 After lunching al fresco at a restaurant alongside the wall of the amphitheatre I headed further south into the depths of the Camargue, eventually reaching the little port of Saintes Maries de la Mer (name in the plural as there were three St Marys!)This is a small place ,with a little fishing harbour and marina, a very commercialised but unsophisticated seaside resort but not without charm.All the traditional whitewashed low lying buildings persist, and a 10th century church, and arena where they do the Camargue version of bull fighting ,more like the Pamplona run, with athletes trying to plant a rosette on the bull.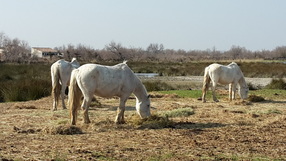 Everyone knows of Carmargue white horses, and their cowherd riders ,les Gardians, but I wondered if they still exist .In fact I saw hundreds of horses, mostly now in (a large number of) riding stables offering rides to tourists. In fact the breed are quite small and perhaps should be called ponies. But the special breed of cattle still exist and the meat is prized, the steaks of which are sold in restaurants as "taureau" as opposed to "boeuf". There are a lot of paddyfields too, and somewhere out there flocks of pink flamingos as well (No I haven't been on the Pastis!) There must be a couple of hundred campervans in town, dispersed among several specially designated car parks. The town is quite busy in the sunny day but oddly, of the several hundred restaurants and bars open in the day, only a handful are open in the evening, and they're deserted. It really is early in the season, and the campervan folk seem to prefer sitting in their vans watching TV. In fact the sign says it costs 12 Euro to overnight in the campervan park but the ticket hut is firmly closed.

Mind you, now is the time to visit as I read that in the summer it becomes a mosquito ridden heat hole.(the postcard shops are full of cards with droll jokes about tourists surviving mosquitoes)