Today I have crossed the heart of Bulgaria,heading north,and am camped near Veliko Tarnovo,an historic town and a former capital of Bulgaria (from roughly 1100-1400) .The old town is built on a hill above the gorge of the river Yantra. There is a fair sized modern part to the city also, and it hosts one of Bulgaria's most prestigious universities. The most well-known ancient monument here is Tsarevets castle, which is a focus of national identity to the Bulgarians, and was heavily restored in the 1930's.I discovered that I have joined Patrick Leigh Fermor's 1934 route: his account of arriving at the town(which he called 'Tirnovo') is a good example of his eloquent descriptive skills:

"The town of Tirnovo…rose from a canyon like an emanation, a sharp flight of houses hovering in ascending waves along the lip of a precipice which swung airily away and then back again in three quarters of a circle. The rock face, as the town gained height, fell beneath it into a chasm of organ-fluted rock, all stressed and heavy with shadow, to the sinuous bend of the river Yantra. The tiled roofs of this winged insurrection of houses were plumed by belfries and trees, and the highest rocks at the farthest point of this amphitheatre, after the town had died away, were scattered with churches. The airy town jutted with oriental balconies craning on diagonal beams above the gulf, and hundreds of windowpanes threw back their evening sun in tiers of square flamed sequins, as though fires were raging within...The remains of battlemented walls girt this almost inviolable rock.."


It was with some difficulty that I found parking in the town, not helped that my arrival coincided with a heavy downpour of rain and I drove through the whole place three times before I discovered a square with enough space. Luckily the rain quickly stopped and with umbrella in readiness I walked from here to Tsaravets Castle, via the old town. This part of town has narrow paved street winding up the hill, with medieval looking over-hanging houses.In contrast to this historic look I later spotted a modern fast-food restaurant on the way back down,staffed by a group of cheerful youngsters who all spoke English, and I enjoyed an acceptable kebab.
The drive across the country to Veliko Tarnovo had been interesting.The main roads are very good:I had worried that my satnav wanted to take me on some "yellow" roads but it turned out to be a good fast route,initially over rolling farmland then through the spine of low mountains that run east-west across the middle of the country.The landscape could well be English-there is the undulating countryside, gentle hills, same patchwork of fields, some ploughed(a red clay soil), some yellow with oilseed rape, and there is none of the high craggy mountains of the Balkans. The agriculture in many places seems very developed, i.e. herds of 200 or more cows in industrial sized modern barns in places, then you see shepherds with a flock of a few sheep in others but its seems the most basic areas are where the Roma live, and it is they who drive the little pony carts,and live in the most slum-like houses.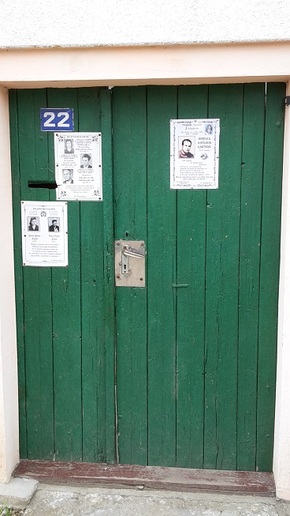 Death notices on most front doors and telegraph poles.I don't know how many generations they go back...
The campsite I am on (called "Camping Veliko Tarnovo" ,but actually in the nearby village of Dragizehvo
http://www.campingvelikotarnovo.com/
)is run by an English couple,Nick and Nicky Kinson, who did their camping tours 10 years ago, and liked it so much here they stayed. I can see why in a way: the countryside is very attractive, and looks very like a
rural idyll of England and
it is so much less densely populated-Bulgaria has an area of about 5/6 that of England but a population of just 7 million.
The village where I am is a bit more up together than the one last night, but still has an odd mix of very homemade houses, a few quite reasonable ones and a surprising number of derelict buldings .It seems there is no money for basic infrastructure-grass grows up through all the village pavements, which are all falling apart. There is plenty of good major roadbuilding going on though and part of my journey today was on a fast motorway. Lots of projects have the EU logo on the sign, though I have read that the EU has not released the usual grants as it is concerned that endemic corruption has not yet been solved.
The campsite is very pleasant,a well prepared landscaped field in countryside on the outskirts of the village.There seem to be a number of English ex-pats coming and coming,and the main building has a bar, and restaurant with a wide ranging menu including much traditional Bulgarian cuisine and I enjoyed a tasty meal and some local wine here that evening.I believe the chef is a local Bulgarian woman. The campsite must be bringing in much-needed money to the village as they seem to employ a number of locals as gardeners,cleaners and cooks:also ,I see that the pool is open to locals, particularly to teach the local children to swim.