Having explored the old citadel of Buda last night,today was the turn of Pest.This is a different city altogether,much the bigger place,with streets laid out on a grid stepping back from the Danube. It's very much like trying to explore London on foot, often difficult as the points of interest need searching out rather than just appearing by strolling. On surfacing from a metro station, as in London, one is faced with several identical-looking busy streets running past you in various directions and it takes a bit of orientation. In the end I opted for an open top bus tour which took the strain out of walking around on a hot day. This included a boat trip down the section of the Danube in the centre of the city, landing on St Margaret's island (Margit Sziget),which is a big park linked to both sides of the river by the Margaret Bridge (Margit Hid).

In contrast to the medieval origins of Buda, the twin city of Pest only really took off in the 19th century. Leigh -Fermor wrote "Apart from a few old streets and squares,...I liked Pest much less than my own side of the town(Buda)but I never tired of surveying it from the Fisher Bastion. I could see great Oxford Streets, like the Andassy ut and the Rakoczi ut, slicing their canyons through the boom city: the quiet citadel my side of the water had long since been outstripped.Flights of steps,arched and roofed-in like slanting cloisters, zigzagged downhill from this eyrie and I always seemed to be out of breath from toiling up them,or rushing down full-tilt and haring across the Szechenyi Bridge, late for some appointment in Pest"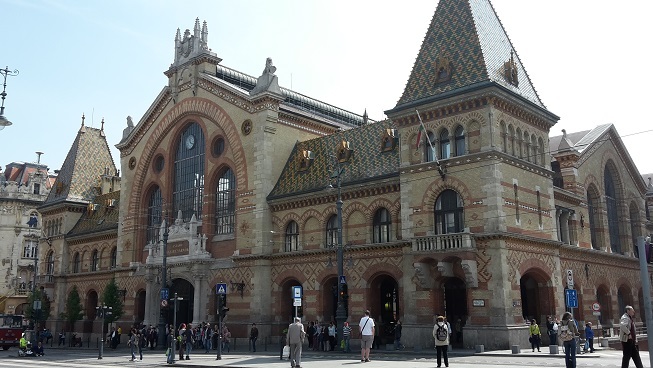 Budapest Central Market Hall, built in 1895.An interesting covered market but as a sign of the times,there is now an Aldi in the basement
I get the impression that Budapest is culturally quite an edgy city.There is a phenomenon known as ruin bars which are night spots that get set up in empty buildings, some of them very large ,and filled with random or themed mixes of junk,or items of interest etc. This idea has been running a while now and some are now part of the tourist trail. There are only a few pedestrianised streets, and the traffic is busy. I was a little bit disappointed by what I found but perhaps I needed more time to search out the really interesting things. For example there are a number of Turkish baths/thermal pools with the habit for them left over from the Ottoman occupation.I also didn't give any of the museums a trial.


| | |
| --- | --- |
| From the river : Buda castle,the former Habsburg royal palace,now museums.The site has always been a royal palace since medieval times,but rebuilt many times.The present building is a conglomeration of a basic late 18th century Baroque structure from Maria Theresa's time,a re-build in around 1855 in Franz Joseph I's time, then badly damaged in WW2,and restored afterwards. | |