I was woken at 7 am by a vigorous knock on the side of the van. It was the Frederikshavn harbourmaster after his dues. I suppose he has to get to it early as he will otherwise miss a lot of overnighters-I did doze off again and when I re-awoke my 5 neighbours from the night before had all departed.
I knew I had to head south through Denmark, but I wasn't quite sure how far I would get,so I set my lunchtime destination
as
the Unesco world heritage site of Jelling,halfway down Denmark,and then I would decide how much further I could go.
Jelling is a 20km detour from the North/South E45 motorway.The historic features lie on a grassy common astride the church,and mark the conversion of the Danish kingdom to Christianity .Jelling was a royal manor in the tenth century in the reign of King Gorm and Queen Thyre.The story goes that after the death of Thyre,Gorm raised a runic stone in her memory and built joint burial mounds ,one either side of the stone.On his death he was buried in the north mound,which probably already contained his wife.After their son,King Harald Bluetooth,had united Demark and Norway as one kingdom,and been converted to Christianity, he set up another stone between the two mounds proclaiming his achievements and right to rule.He also built
a church there,in which he had the remains of his father re-interred . The church has been replaced several times in later years,but in Victorian times,was found to have 11th century frescos, the earliest in Denmark.These have been somehow since destroyed,but were copied.Harald Bluetooth's stone is jokingly described as Denmark's first baptism certificate. Certainly the stones are the first time that "Denmark" as a nation had been mentioned. It is interesting how the modern graveyard associated with the church lies closely between the two pagan burial mounds. The two stones are encased in glass cases now,and the sunlight on a bright day made it hard to see any of the carvings: over the road there is a state of the art visitor centre with multimedia displays which is free to visit .The surviving grave goods are limited in quantity,but are unique and give name to the "Jelling Style" of decoration. There were computerised images showing how the rocks would have originally looked, with their carvings brightly painted.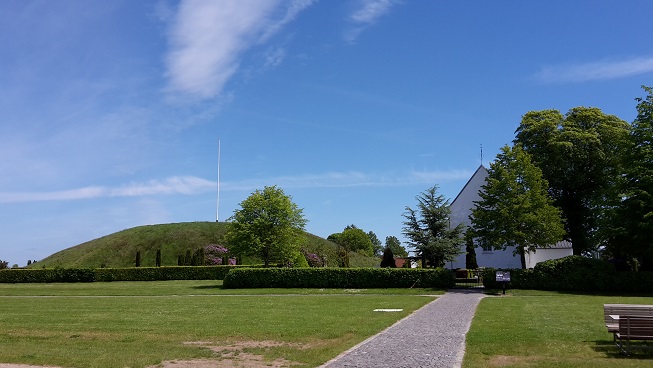 The northern pagan burial mound, and the church ,with the surrounding more modern graveyard, Jelling
Having seen all this, it was only about 2-30pm so I decided that I had time to reach Lubeck,in Germany,another 260km further down the motorway.There were no hold-ups and I finally pulled into to the free, dedicated, campervan car park across the river from the old City centre at 6-15pm ,giving plenty of time on a lovely summer evening to wander into the old city and explore.This was quite a small area of asphalt with parking bays for 20 vans ,and surrounded by a hedge.This was a well located but somewhat basic spot, but nevertheless several van occupants were making the most of it and had set up tables and chairs and were either sunbathing or entertaining their neighbours with drinks.

The old City of Lubeck is on an oval island between two reaches of the river Trave which flows north to join the Baltic.In the 13th century,Lubeck was the most important of the Hanseatic league towns,an important trading federation in Northern Germany and the Baltic states,and was supposedly known as Queen of the Hanse. At least my guidebook says it was but I'm unsure whether that is a genuine historical title or a modern tourist department invention.The city was bombed in WW2 but 80 % of the town survived ,although the churches are largely restored.(The cluster of spires was visible from about 20km away as I approached across the surrounding plain). Old Lubeck is ,not surprisingly, another Unesco world heritage city.Wandering through, it is obviously a genuine town.There is clearly some tourism but it is not strongly in evidence.The side streets parallel from the main street are mostly residential,with all the modern parking problems that brings,but are beautifully peaceful,cobbled,and with many of the houses just off the main street having climbing roses or wisteria up their walls.I had in mind that this is probably a German equivalent of York,or perhaps Shrewsbury,although it is a city more the size of York.One of the trademarks of Lubeck is its alleys and courtyards. Off the historic residential streets are side alleys,through arches or tunnels.Inside are courtyards surrounded by cottages.In the historic trading period these courtyards were set up by various guild members for particular trades.




I marked my arrival in Germany with a couple of Weissbiers (cloudy wheat beer)at one of several outside restaurants on the river bank just inside the charmingly wonky Holstentor gate. I am back in the land of sensible pricing (50cl beer £2-80).In Norway I had gasped at the price of a small steak in a supermarket that probably would have cost about 4-99 in Aldi in the UK and which in Norway was the equivalent of £40! At the Lubeck restaurant you can get steak with all the trimmings for about £10 and enjoy a nice riverside location, although in the end I settled for a jumbo rack of barbequed pork spare ribs ,and jacket potato, for even less cost.One thing that hadn't been too horrendous in Norway was fuel, about £1-20 per litre.But in Denmark ,Diesel is only about 90 p per litre,in line with Poland and the Baltic states, and not much more in Germany.