The 120km from Karlstad to the Norwegian border is very beautiful.Leaving the big lake Vanern behind,along the shores of which is a surprising amount of heavy industry, you move into an area of smaller lakes. Although it is a very forested area, the forest seems more attractive than its equivalent in Poland or the Baltic States. Firstly,the land is hilly and undulating,but also the forest is varied.I'm no student of forestry but in the Baltics the forest seems to be all of a monotonous uniculture of a type of pine that has its growth only on the top-hence as you drive through it all you see is millions of tree trunks disappearing into infinity in a black forest. The trees in the area I drove through today are much more varied by accident or design,and there are different varieties of conifers,each a different green,and there is also considerable deciduous shrubbery tumbling down to the roads.Often the forest breaks to reveal dairy fields, or an unexpected lake. By the side of the roads are huge drifts of wild lupins.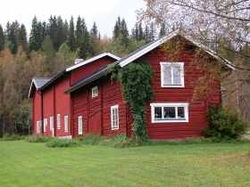 Every Swedish house,barn and shed in the countryside is only painted one colour, Falun Red.This,I learnt, is a bi-product of Sweden's copper industry,used by the rich till last century,when it became affordable for ordinary folk,and was discovered to be a very effective wood preservative.The richer people,as red became a colour for the plebs,started painting their houses yellow!Thus Sweden is a very two-tone country,all the buildings in Stockholm were a shade of light or dark cream(none of the rainbow of colours favoured by the Germans and Eastern Europeans)and in the countryside buildings are universally red.Apparently it is still an unwritten rule that you paint your house red, although often modern paints are used.And the only colours acceptable for your windows and eves-white or dark green!


Moving into Norway there were immediate visible differences.Firstly the "white line" in the centre of the road becomes yellow in Norway-and the houses suddenly are white ,grey,all colours ,(including a fair few red!)

Approaching Oslo I saw warning of automatic tolls ahead and had to stop to check the situation.Fortunately the Norwegian system is like the Swedish.If you enter Stockholm or Oslo,your number plate is read and you are billed at the end of the month.If you are foreign–registered,and if you are unlucky,they trace you and you eventually get a bill in the post in a couple of months. This is much kinder than the London congestion charge which you have to proactively pay immediately or be fined. Let's wait and see if they trace me! Certainly the Swedes until recently never used to bother with the hassle of chasing up foreigners, but the EU got strict with them for (positive) discrimination on grounds of nationality.

Despite an undisturbed and cost-free night last night, I decided to opt for Oslo's main campsite tonight. It's well situated on a big area of open common on the heights above the harbour, with a good view and a bus stop outside the gate.Norway trumps Sweden for expense:£4-50 for a single bus ticket,but an odd pricing structure of only £8 for an 24 hour pass. In comparison, Poland and the Baltics have transport systems that cost about 50p to £1 for a ticket which lasts as far as you can get in an hour.In downtown Oslo I glanced at some menus. The cheapest burger at TGI Fridays and Hard Rock Café were £18.The cheapest burger at Macdonalds £5.(£1 in UK)Luckily I am still well stocked with Polish food and beer bought at much more reasonable prices. I'm not sure if you can buy beer in supermarkets in Norway*.In Sweden the maximum strength of beer allowed in shops is 3.5%,and on the shelves were editions of well-known beers specially made for the Swedish market, all with with a 3.5% alcohol content.I still have on board some Slovakian lager at an incredible 12% with which I shall toast Scandinavian licencing laws!

(*Yes you can, I later discovered, although you couldn't when I was last here in 1983)

I had time to get into central Oslo this afternoon.It's a very compact centre,the central grid from the main station to the Royal palace being only about 1000 metres long.Other than some grand gothic and classical revival public buidings there is not much attractive architecture on offer.The setting is spectacular,however, with Oslo Fjord and the harbour full of boats to the one side,and hillsides dotted with settlements rising up behind ,forming a bowl.Oslo has a host of interesting museums and, of these ,the Henrik Ibsen and the Munch museums I thought I could give a miss to. I went into the Norwegian Resistance (Homefront) Museum.Its one of several things to see in the huge Akershus Fortress at one end of the harbour front.Initially this was founded in medieval times,and then successively modernised.It was a royal residence up till the 17th century.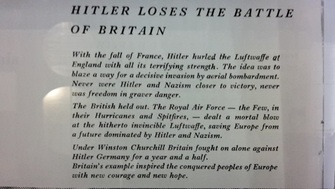 The Resistance Museum was very stirring stuff. You could listen to Churchill's speeches,including "blood ,toil ,tears and sweat", alongside recordings of King Haakon broadcasting from London.All the major resistance feats were represented, including the Heroes of Telemark, assistance in the sinking of the Tirpitz, and quite a few more daring deeds I had not heard of. Through it all ran a strong theme regarding Britain's assistance and close links; there was quite a bit about the ultimately unsuccessful British landings in Norway in 1940, but how the British Navy at the same time had inflicted decisive damage on German naval capability. At the exit was the following sign:

"In the skies over London

In the African desert

In the ruins of Stalingrad

And on the Normandy beaches

Norway was given back to us "



I think that the museums I plan to visit tomorrow won't be so emotionally charged!