I started this morning by driving the 5km on into Kavala,which I hadn't somehow the energy for yesterday afternoon.Today the temperature has plummeted to 10 degrees with a strong wind, and grey with spots of rain,much more the weather for vigourous climbing up to old castles.I wasn't expecting too much but it turned out to be well worth the visit.It is a somewhat tatty place in parts but trying very hard.There were pictures of a swanky new marina about to be built.There is an interesting old town,with some nice cafes on the waterfront against the town wall,and more on the main lane leading up to what was the Byzantine acropolis,now a ruined Ottoman castle.Apparently as a port it handled 80% of Greece's tobacco trade,now fallen on hard times.But the Ottoman influence is very apparent in the winding lanes that snake around and up the hill into the old town:I even came across 3 coachloads of Turkish tourists.Quite unexpectedly, as I had driven through looking for a parking spot, I had come across a massive aqueduct,not Roman(although the foundations may be),but dating from the 16th century-the era of Suleiman the Magnificent.


Up towards the castle I saw signs for Mohammed Ali's house,and wasn't quite sure what to expect:It is in fact an Ottoman town house from the 1720's,the home of Mohammed(or Mehmet)Ali (1805-1848)who became the Wali (Viceroy) of Egypt and founded a brief dynasty there:he seems to have been a general benefactor around Kavala.


Kavala also has its own little international airport,you guessed it "Alexander the Great International" or "Mega Alexandros " in Greek.More of the Macedonian politics thing:I remember at the museum of the tomb of Alexander's father in Vergina there was a pretty firm line of archaeological evidence portrayed that the Macedonians were from the start a Greek tribe and "not as some people have claimed", a Slavic tribe.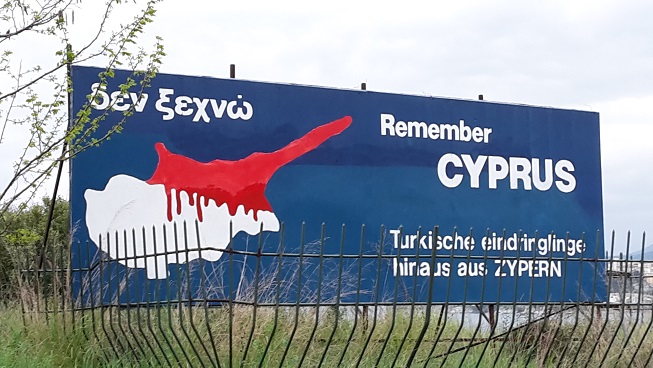 An inflammatory sign near the Turkish border .The German bit :"Turkish invaders get out of CYPRUS". The invasion was more than 40 years ago(1974)
I then climbed back in the van and headed onwards to the east,rejoining the motorway for 150km towards the last Greek city before Turkey, Alexandroupolis.There I had identified another open-all-year campsite situated on the beach.It's in a pretty tatty state and looks as if its season(if it ever has one) may take a couple of months to start.Out to sea there is a new island to look at ,Samothrace (which features Mt Saos, the highest mountain in the Aegean).It was a 1 mile walk to the town centre,seafront and docks,which the Lonely Planet guide describes as Thrace's nicest town: it's pretty nondescript, though,so I wouldn't go rushing to visit the others. It has no old town, being virtually all built this century. It does have a university and medical school.Maybe it might looks better on a hot day when everyone would be sitting outside in the restaurant quarter near the seafront,which right now is pretty shut up(It is Sunday, and raining)and the action today is all in the burger joints and bars on the main street where the young people are.Having said that,I did find my way to a busy cavernous grill restaurant down a narrow side street . I tend to think twice when some one with a menu tries to usher me into a restaurant so I walked on by the first time. After a little searching I decided that there didn't seem to be anywhere else as lively looking so I headed back .I was ushered in, to find a big charcoal grill to one side with long tables and big groups of locals all enjoying themselves.I had good chicken souvlaki(grilled chicken kebab) with delightful puffy pitta bread and a huge salad.


In the port was the Russian sail training ship Kruzenshtern,which was a spectacular sight.She's on a tour,I think to coincide with the VE day celebrations (and the cynics would also say on a public relations tour in advance of a potential Grexit from the Euro)and people were all heading towards the dock:today was the ship's open day ,so I went aboard to take a look. It was by now very cold, with a strong wind and almost freezing rain in the air. The Greek coastguard police who were manning a temporary barrier stopping vehicles entering the dock, looked as though they had come from Canada, and were wearing thick anoraks and fur hats.



"70 years of Victory; 1945-2015" was the unreconciling statement on the banner amidships, although I do note that in the UK we are having "celebrations" too, not "commemorations". There were a series of 6 picture boards up for anyone who didn't know what Russia's effort in WW2 was, but I think they gave a fairly balanced view: one of the 6 was all about the importance to Russia of lend-lease supplies from the USA and UK,(stating that 16% of Russia's armoured vehicles,15% of her planes, 32% of her warships,45% of trains,66% of her trucks and jeeps,and 80% of her radar equipment all came this way) and two more pictureboards showed the 'Big Three' allied leaders together,at Yalta,Potsdam ,and meetings of allied generals ,etc. It was interesting seeing all the Russian naval cadets in their best uniforms.