The rain continued solidly overnight and all through today. At "Holiday Village Butterfly" the minimal layer of gravel covering the ground on my allotted space had turned to mud and at 10am there was a dog whining incessantly in the caravan awning opposite, where it had been left for the day. I decided it was time to abandon the lake and leave .So the next stop was Vicenza.

Verona or Vicenza? , Mantua or Modena? I'm beginning to get a bit shell-shocked with all these historic Italian cities and have to think hard to remember where I am. What draws me to Vicenza today is its history as the home of the architect Andrea Palladio (1508-1580), from whom Palladian architecture gets its name. He was extremely busy, for there are a large number of notable Palazzi and other buildings within the city designed by him, and for which the town has set up a dedicated tourist trail. Some of his grander works are villas in the surrounding countryside also.

The campsite for the night is a dedicated camper section in a small park-and-ride car park. It has fresh water and waste drainage but no toilet block. It would be possible to walk into town as it's not far in actually, but the 24 hour parking ticket thoughtfully provides a free bus ride into town and back for up to 5 people, and I'm happy to save my legs. The Italians really are very campervan friendly. This time I am not spending the night alone in a town car park, for there are about 10 Italian campervans here, which gives a reassuring sense of security in numbers.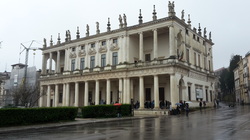 I walked the "Itinerario Palladio" through the town, specifically visiting his Palazzo Chiericati, now an art museum, the Palladio Museum in his Palazzo Barbarano, and what is really a stunning gem, his Teatro Olimpico. This was his last, and some consider, his greatest work, which is the interior design of the theatre. It was opened in 1585, and is the oldest roofed theatre in the world. Its design was based on ancient Greek and Roman theatres, where the audience sits on a terrace of steps. Such was Palladio's status ,even at that time ,the place has not been altered since.



After getting the bus back to the carpark I set off to walk a further 1km out of town, to see the Villa Capra, also known as the Villa Rotunda, which I had spotted earlier as I drove into the city in the morning. This is considered one of, if not the , iconic designs of Palladio's and was started in 1570.It is in a peaceful, slightly raised spot overlooking the countryside. It has a central dome, or rotunda, with a grand porticoed entrance on each of 4 sides. I could enter the small garden and walk around the building and up the steps, but it is privately owned and blinds were down on all the windows. This is another place that I recall seeing on one of Francesco da Mosto's TV programmes, only then, he was allowed inside as a guest of the aristocratic owner! I had arrived at about 430 and I was the only person there when the old man at the gate made obvious signs that he wanted to lock up, as the clock struck 5



Having walked around both Verona and Vicenza in the rain, I can say that I much preferred Vicenza. It is a reasonably large place, but the core of the city centre streets are pedestrianised which makes for a peaceful unhurried atmosphere. The whole place is much less crowded than Verona. The central open space, Piazza del Signori, which like Verona's, used to be the Roman forum, is a better, wider space than Verona's, and has two of Palladio's great buildings, one on either side, the Loggia del Capitaniato, and the massive Basilica Palladiana. The latter was originally built in the Renaissance period around 1445 but was "modernised" by Palladio in 1546, when he designed a new portico and outer loggia. The unique experience of seeing Palladio's many buildings as well as some attractive Renaissance ones as well, made for a great afternoon.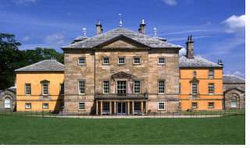 Out of interest I researched the arrival of Palladian architecture into Britain, as, for the date of the design of the buildings in Vicenza, the mid to late 1500s, they seem to me to be way ahead of their time. Apparently Inigo Jones is credited with being one of the first English architects to design in an early Palladian style around 1620, after visiting Italy. Examples are his Banqueting House at Whitehall, and the Queens' House at Greenwich.

The style did not, however, really become popular in England until the Georgian period between 1714 and 1830.For my own interest again I have included a picture of Rokeby Hall in County Durham (of Rokeby Venus fame), which I have visited. This was built around 1730 and considered an early example of the architectural fashion in England, more than 150 years after Palladio was designing his buildings in Vicenza!


In the evening ,having had a simple pasta lunch in Vicenza, I decided to "eat in"-Lostintransit, with the help of the delicatessen next door ,can do 3 course suppers, with octopus salad as a starter ,then melanazane alla parmigiana ,with kale tips in oil and garlic, and frittura di verdure(vegetable tempura)all supported by a bottle of Bardolino,a legacy of Lake Garda.