After a chilly night, during which all the local dogs in the farms around kept barking , I awoke to a bright sunny morning again, and wasted no time setting off to find the old bridge in Mostar. Before I left, the owner , hearing that I was planning to travel on to Montenegro, Albania and Macedonia ,went and got me a map guidebook listing about 10 campsites throughout this group of countries. This was a fantastic gift, as I have fallen now off the map of my two Dutch guidebooks*, until I reach Greece, and my German one , the most reliable, lists just one place in Bosnia(I'm at it) and one in Montenegro, and none in Macedonia nor Albania. My other source is the internet but I've also now fallen outside O2's European traveller zone, which gives cheap mobile internet within the EU only, and an exorbitant rate outside, so I will have to ration that. His only request was that I tell everyone about his place-so you've been told ! He says he's full in May and June, but slightly less so in July and August when most people stick to the coast. With 40 campervans those two toilets must take a fair bit of strain.

(* When reviewing this in December 2015,I have just had an email from the Dutch publishers of my Camperstop Europe guidebook to state that their 2016 edition now features Eastern European and Balkan campsites too)

Having done the recce of Mostar last night, this morning I quickly spotted the carpark I was directed to last night, and it has loads of space as it's the one where the coaches park-and I've beaten them all to it as well. As it was a pay on exit car-park with a ticket operated barrier, I was a little anxious that not having Bosnian currency I might get stuck, but was reassured by someone at the barrier that the café where one paid did accept Euros.

Arriving, after a short walk, at Mostar's Ottoman-era tiny old town where the bridge is sited I felt a little disappointed. I knew the bridge had been rebuilt with Unesco's help after the civil war, but the area looks now rather like a mini theme-park;the little streets were lined with stalls selling ottoman–themed souvenirs, and fabrics, and restaurants with Turkish–style food. The stone cobbles were clearly recent, all set in new concrete. However, when I saw a picture on display of the damage after the war, I forgave them everything, because all the buildings anywhere near the bridge ,and indeed in most of Mostar were either totally destroyed, or badly damaged,and the bridge itself gone.Everything has thus been rebuilt, and if it's their main tourist draw for the whole country they've got to make the most of it.The city's main street just above the old town is in a sad state,most of the buildings still derelict and pockmarked with bullet holes.After restoring the old town,the energy seems to have been put into re-building the suburbs ,which now have all the usual modern stuff, supermarkets, car showrooms, hotels etc. They are obviously getting investment from outside the EU too, as there were some Gazprom petrol stations.

What they can't take away from the place is its setting, which is very attractive and interesting. I counted the minarets of about a dozen small mosques, but towering over them all is the new concrete Italianate style campanile of the catholic cathedral. This looks like a modern copy of the sort of bell towers one sees in Italy, and presumably like the rest of thetown it must have been rebuilt after the war and replaces an old one. Apparently overall, the population of Bosnia is about 50% Moslem and of the other 50% who are Christian, the majority are Orthodox Christian :they ,however,are largely to the north in the ethic Serbian areas. In Mostar,I read,there is still a sizeable minority of ethic Croats(30%-the highest proportion in any Bosnian city),who are mostly Catholic.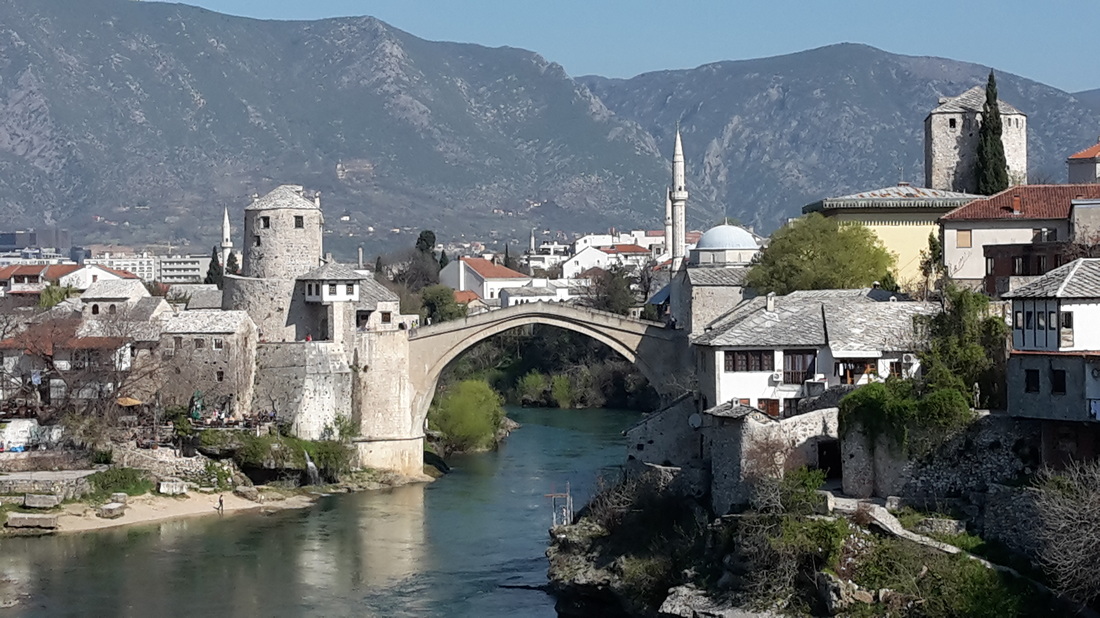 On the way back down towards Croatia and the coast I followed a main road which runs downstream along the bank of the river, a much better road to that on which I approached Mostar yesterday , and no need this time to try to find the loose end of the unfinished motorway.

At one point I got pulled over at a Police check. I had been watching my speed carefully, but I wondered if I had committed some other infraction. For example, in Croatia you have to have you lights on in the day, but only until the clocks go forward. In Bosnia by contrast they must be on all year round. On such little things hang your fate. They were also looking at a local truck, so I hoped they were just checking goods vehicles routinely. I was asked for my driving licence and insurance green card, which I was able to produce, then I was waved on my way. Afterwards I wondered if I was targeted as I had foreign plates-many tourists must be tempted to pop up to Mostar from Croatia, perhaps some not realising their insurance ,which covers all the EU including Croatia automatically, is not valid here.

On leaving Bosnia,I realised that I was not mistaken yesterday when I thought that Bosnia appeared more down–at heel than its EU neighbour,for the first Croatian town I went through looked smart and affluent in comparison to where I had just left,with shop signs showing all the usual international logos.Down the river valley in Bosnia,vines were the main crop ,but into Croatia ,and down to the river delta where it meets the Adriatic coast, the fields were all citrus groves.I then turned south along the coast road,heading for Dubrovnik past the dreamy views of archipelagos of pine clad islands set in a turquoise sea.

Due to an accident of political geography,the strip of land containing Dubrovnik is not attached to the mainland of Croatia,but is in a small enclave encircled by Bosnia.To reach it on the coast road you must drive through 10km of Bosnia,the "Neum corridor" which entails going through border controls again at either end.To be fair ,the resort of Neum looked just like the Croatian coastal resort towns.It seems that still no love is lost for the Serbs locally in some quarters,as the Bosnian road signs featuring Latin and Cyrillic versions of the names have had the Cyrillic ones spray-painted out.(Bosnia Herzegovina is actually made up of two states, the semi-autonomous Republiska Srpska-nothing to do with the country of Serbia-which is where the majority of the Bosnian Serb population are ,who are generally orthodox Christians. I have just been in the other part of the country, confusingly called the Federation of Bosnia and Herzegovina ,whose population is predominantly Bosniak Muslim )

Finally on arrival in Dubrovnik I found my way to the only campsite in the city ,and caught the bus into the old town for a look.Having been here on holiday 20 months ago, I didn't go mad and walk the walls etc , but just had a wander, and a very late lunch on the harbourside.Three border crossings and being stopped by the Police in a day is enough.