I stopped en-route to Torun to have a look at Gniezno.This, my guidebook tells me, is an ancient town and where King Boleslaw the Brave was crowned the first king of Poland in 1025.The town has none of the splendid architecture of Poznan or Wroclav but has a pleasant enough central square. Its striking feature is the 14th century cathedral, although its brick construction gave me the impression that it was much less old.It has bronze doors from the 12th century.Outside is a statue of King Boleslaw, erected in 1925 to mark the 900th anniversary of his coronation, and this would have been just 6 years after the town was returned to Poland after a couple of centuries under the Prussians.I didn't stay any longer than to have a coffee. Across a little lake from the cathedral is a huge modern "Museum of the Origins of Poland" which I gave a miss to, having read quite a bit about the subject, and bored you with it already.


My route then left the main Poznan-Gdansk dual carriageway and took a lesser road to Torun.

Torun is a well preserved city of medieval origin that survived WW2 intact.It is on the bank of the Vistula (Visla in Polish), which has grown considerably in size since I left it in Krakow,it having passed through Warsaw and next it heads on to the Baltic.It seems wider than the Danube was in Budapest,and has three big bridges across. I was camped just across the river, although it seemed a long walk across the bridge.(There is a tram system in the main city but none run across the river).Torun was originally a Teutonic Knights base, and it developed into a trading city as part of the Hanseatic league.It is now a Unesco World Heritage site.

Its most striking feature is the brick construction of many of its historic buildings.It has several huge 14th century cathedrals: on the river frontage its brick city wall has also survived ,with several old gates into the city.As in other cities in Poland ,I find that the age of these big cathedrals is surprising,which I put down to their brick construction which in England one would automatically associate with a much later era.In common with other Polish cities it has a big central market square with the 15th century town hall in the centre.Unlike Poznan and Wroclaw the buildings are toned down a bit-the central square is not so vividly multi-coloured,but the similar buildings line many of the medieval streets heading away from the square and the sights are not confined to a restored main square alone.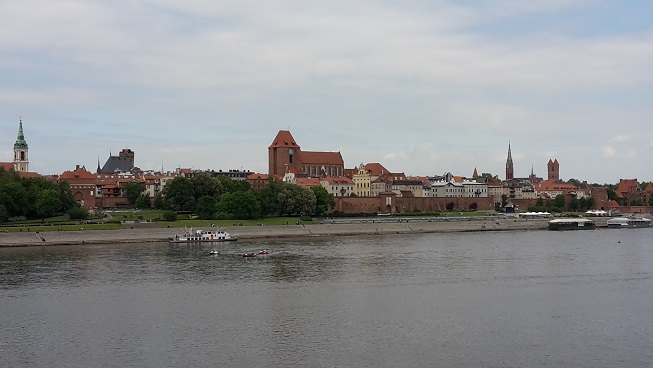 Torun,on the bank of the Vistula. Its 14th century gothic churches are: Church of St John(big one in the middle),Church of the Assumption of our Lady(Grey roof ,mid left) and St James's church(double pointed tower on the right)
Much tourism is based on this city being Nicolaus Copernicus's home:a statue is in the square and a house nearby,supposedly his, is much visited.The other thing holding the local tourism together is gingerbread,apparently a local speciality,and quite a number of shops sell it,claiming to be THE traditional shop.I tried some ,but didn't find it particularly pleasant.It comes in various shaped soft brown cookies,glazed with a sugar crust,and some have a filling.They didn't taste of ginger ,but just brown cake!

What I really would recommend ,however ,is Polish apple cake (Szarlotka).This seems a staple in every café,and is made of a shallow 1cm sponge base with the bulk of it being grated or chopped apple,held together somehow to make a cake about 5cm tall,with some caramel on the top,served warm with cream and ice cream.There seem to be various versions,some with a crust on top,and some with meringue.