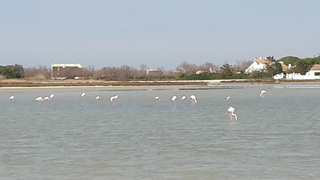 Friday the 13th-and no disasters, save losing 3 Euro in tonight's campsite tumble dryer.

The flamingos arrived on cue as I left Saintes Maries de la Mere, by a slightly different route than that by which I had arrived. There were a number of flocks feeding in the lagoons close to the road. Unfortunately, as well as the flamingos, the camper park attendant also showed up at 8am and I had to fork out 12 Euros. As I dozed,I had heard 2 or 3 campervans leaving very early, maybe 7 am, so I then realised why. Perhaps I need to follow their tactic in future. On the way out I again passed several riding stables inviting me to "Promenade a Cheval" .It seems to be THE thing to do around here.

Taking a walk along the beach this morning ,I noticed that, like Oldbury-on Severn, the Camargue is protected by a system of automatic sluice gates, although given that there are hardly any tides in the Med, I think they are more a protection against high seas when the mistral blows from the south



My aim for the day was to move east to the Cote d'Azur but first I wanted to see a little bit more of Provence. Granted you can't do it justice in one day, but I set myself a scenic route to try and see a bit.

First, following a "top ten guide" I headed for the little hill village of Les Baux de Provence, just beyond Arles. This is clearly a highly popular tourist attraction given the couple of km of metered parking on the side of the road approaching it. I was, however, able to get right up to the village, but was a little disappointed. It was a nice enough little place, several winding alleys and streets; leading to a castle on a rocky outcrop, It was worth seeing in passing but probably I've seen so many quaint little towns lately I'm getting picky.. St Remy de Provence, a few km further on, is an attractive town too.


Next I made tracks for the Cote de Luberon ,to the east of Avignon, which is Peter Mayle country .I passed many orchards ,which I think were cherries, and of course vineyards. There were also some of the iconic lavender fields, but unfortunately at this time of year they are just rows of brown tussocks. Cutting over the hills to Aix-en- Provence involved much hair-pinning up and down a rocky gorge and I eventually stopped for lunch in a pretty village called Loumarin. Quite a number of people were eating outside in the handful of restaurants in the main street, but needed coats on, for today the temperature has dropped from 20 degrees to 15, and it's more windy. (I fear the forecast is for rain over the weekend).They must have been foreigners! -I joined the locals inside where I experienced the strange mixture of watching a little Provencal village in action through the window, while MTV was on the television inside. Such a good lunch, but it's a shame I'm driving as again I had to stick to water to wash it down.
From Aix-en–Provence, I decided to take the motorway, and whizzed towards the Cote d'Azur.I have now worked out why my satnav is giving me frequent warnings about unsafe road sections, and flashing an advisory speed limit, when the road looks in perfectly good, if not excellent, condition.I now realise it is circumventing French law, which bans the use of devices which warn about speed camera locations, by warning about "dangerous roads" instead! Crafty! I think I have been heeding the warnings OK,
and
anyway it's hard to go beyond the limits in the van anyway.
Talking of technology, I had another mechanical scare yesterday when I heard a nasty buzzing alarm, and the radio display showed "low battery". I started thinking I'd got an alternator problem, but there was no battery icon lit up on the dashboard and I have the advantage of a display in the van showing the charge
state of both vehicle and leisure batteries, and I could see that when I started the engine the vehicle battery boosted nicely, indicating the alternator was working. Having done a little internet research, I have realised that my mobile phone, which has linked itself to the vehicle, is what is giving a warning, via the radio, that IT'S running low on battery. That sort of tech I can do without.
Arriving at the coast, I gave St Tropez a look before the need to find a decent overnight stop took me along the coast road to Frejus to find the only open campsite hereabouts, 'Camping Caravaning le Frejus'. All the rest of the of the many campsites around here don't open for a month or more yet, but to me it's a no brainer to find a campsite, at which, with my out of season discount card, I can get a night for 14 euros, including all facilities, as opposed to paying 12 euros for a car park by the main road, with minimal facilities. I did look at a couple of those near St Tropez, and one was busy with 20 campervans. Although I could have a hot shower in my van, and it's got a toilet, it seems a lot better idea to use someone else's, and get off the road under some trees in a quiet ,secure ,spot. Also, as I hinted at the start, I was able to get another lot of washing done.
There are masses of camper stops ("Aires de camping") in France, but whether or not they are free seems to depend very much whether campervans are viewed as a plague or a benefit. Clearly, where villages feel they need to boost their tourism, they set up a free campervan stop. The ones on the coast invariably all have a charge, and all the other car parks and laybys along the coast road all either have a height barrier or signs saying 'no campers'. Inland, though, many of them are free, like the couple I stayed on in Portugal.