Not needing any breakfast after my day of gluttony the day before, I made an early start. I had set myself a journey of 400 km, to reach Albarracin. This is a small ancient Moorish hill town glorying in the title of "city". I came across it reported in some guides as "probably the most beautiful city in Spain" .I'm not sure who started this idea, but it wasn't Carlsberg, I think. But as I was roughly in my general intended direction I felt I had to put it to the test, particularly as the nearby lower lying city of Tereul is listed by Unesco World Heritage as having a particular concentration of Mudejar Architecture,a fusion of Christian and Moorish artistic traditions in the twelfth century, and I could also visit that.

The journey started with a run down towards Madrid on the A1 motorway, up and down passes through hills, still in the snow-capped Guadarramas.Then I swung away towards Guadalajara (sounds as if it should be in Mexico!) where the mountains stopped and were replaced by emerald green fields of young corn, with the spaces so open I could clearly see the tall buildings of Madrid 30 km to the south.

This is the time of year to see the Spanish interior. It is clear that Spain is a huge country with very low population density in the rural areas, and the wide open spaces and natural beauty rival that of New Zealand in my opinion. Crossing the huge arid spaces of Aragon it is bright sun and a pleasant 18 degrees: it would be unbearable in the summer ,the van even now quickly becomes an oven when parked.

At lunchtime I pulled off the main road(N-211)as I drove through the town of Molina de Aragon.Far above the town on a dusty hilltop was the sort of Moorish wall that I had expected to find later in Albarracin.I parked up in a sidestreet and got myself some lunch,after wandering a few streets.



As I travelled on it was clear that the main roads and even the minor roads are excellent, but ,on nearing my destination I did have to retrace my steps twenty kilometres to a better road on one occasion when my satnav brought me to a single lane road with a one foot drop from the asphalt to the fields on either side:a bsolutely no room for manoeuvre or turning round if I met a tractor or truck.

Albarracin is approached for 20km up a rocky gorge,apparently very popular with climbers.When I arrived at the town,at first I feared I was the victim of some sort of elaborate practical joke,for all I could see was a typical non-descript dusty Spanish village.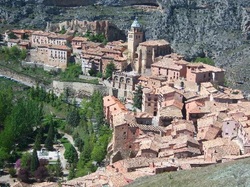 I checked into "Camping Cuidad de Albarracin" feeling a bit resigned,but looking out from the site ,there was the old city at the end of the canyon: high up on sort of rocky shelf, and hemmed in on 3 sides by cliffs, and with near-vertical Moorish wall climbing up the hillside over it.

It looked a bit like Rivendell in the Lord of the Rings films, only without so many trees and water, and rather more dust.

The campsite was about 2km from the old citadel,and was quite busy with what seemed to be weekend climbing parties(young people in mountaineering tents).The restaurant was,however ,still closed for the season although there was an impressive kitchen house, the "Fogones" with a row of open hearths for wood fires,and unglazed windows,with the smoke exiting by a large chimney in the roof in a very medieval manner.That night,it was busy with big fires burning and groups barbequeing their supper.





I drove back towards the city and parked in an almost empty car park below the walls. The town is a maze of steep little streets and alleys, and towering over it ,running up the mountain, are the Moorish castle walls. You can judge for yourself its degree of attractiveness, but it was interesting to wander up and down the long flights of steps and narrow alleys,and very scenic.