We had some time free this morning before Julian's flight home in the afternoon and decided to head out of Riga to see something different.

We drove 40km south west to Jelgava,which is Latvia's fourth city.It is the historic capital ,or administrative centre,of Courland and was where the Dukes had their main,or Winter palace(The summer palace,Rundale,of course I had already visited).Like Rundale,Jelgava Palace was also designed by Rastelli,famous for the Winter Palace in St Petersburg.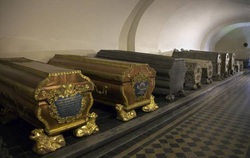 Whereas Rundale had 'only' been seriously neglected and had needed heavy restoration to return it to its formed glory,Jelgava Palace had been firstly damaged by the Swedes in the Great Northern War,then in WWI damaged again, then looted by the Bolsheviks in 1919,and finally burnt down and nearly destroyed in WW2 ,when the city of Jelgava was absolutely flattened. Nonetheless it had been rebuilt and turned into the Latvian Agricultural University. Although the structure looks quite good (from the outside, anyway)it is in serious need of a fresh coat of paint.There was only a one room museum within, giving a bit of information, but visitors can also access the mausoleum crypt of the Dukes of Courland.This has been smashed up.looted ,and so on, several times through history,but the Baroque pewter coffins have now been restored by the Rundale team and there were 24 lined up.There was information about those entombed there,and perhaps morbidly,displays of burial clothes and coffin linings which had survived,some remarkably well.It wasn't clear how may bodies were still in the coffins:it must have been a rather spooky and cold job for the girl who sat next to them issuing tickets. At 11-30 we were her first visitors of the day.

Jelgava is positioned in an attractive place on the banks of the river Lielupe(which later in its course runs past the coastal resort of Jurmala)There are water meadows with wild horses grazing:but the town itself,having been bombed out in the war is now mostly made of Soviet-era blocks and had become the "Experimental Bus factory" and turned out minibuses for the Soviet Union.Nonetheless,efforts were clearly in hand now to make it all more attractive.The tourist information centre was housed in a church tower,all that had survived of the building in WW2,and there was an observation gallery at the top and a local museum on several of the tower's floors.

After dropping Julian at Riga airport I headed off for Tallinn.After taking 50 minutes getting through Riga,which has much bigger suburbs and modern shopping centres on the northern side,I took the main A1 road north .This is a single lane highway,running only half a mile from the Latvian coast,but through such interminable forest that I was only able to glimpse the sea for a couple of tantalising moments.The drive was 5 hours long in total,not helped by a 90 kph speed limit all the way.It was quite soporific as the road was nearly straight,and dead flat,with nothing to look at but forest and the lorry in front for about 90% of the way.

I am now parked up at Pirita marina,about 5km along the coast from Tallinn city centre.This was built as the home of the sailing for the 1980 Moscow Olympics.It is still an active marina and allows campervans to park for a fee.