This has been a day of mixed fortunes but ended on a high note.

The rail line next to my overnight stop in Ripoll proved to be very quiet , with no trains between 2100 and 0700, so I slept well. I have growing confidence that I can camp "stealth style" off site, as my van leisure batteries keep me going overnight without any significant drop in charge, allowing for charge of phone and laptop along the way. So if the worst comes to the worst I can spend the night anywhere . Despite temperatures as much as 20 degrees by day, it still is nearly zero at night at this altitude so things can get a bit chilly. On a campsite I can run my electrical heater all night and doing so am very warm-I could do the same with my gas heater off-site but would rather not exhaust my gas so unconnected from electricity tend to be a bit stingy about running the burners all night. I have a very snug Vango mountain-style "mummy" sleeping bag, but I have discovered that for the perfect night's sleep at 2 degrees C, I have to sleep with this inside my other oblong style basic sleeping bag, and am then very cosy. This morning I managed an early start and headed from Ripoll up the winding mountain road to the Spanish/French border. The evening before I had become increasingly concerned about squeaking from the rear every time I turned a corner to the left. I worked at that at Bourg-Madame, the first French town over the border, there was a Renault garage so I planned to drop in there for a check-up .The squeaking continued on up the winding climb today. The garage turned out to be a small village enterprise, although it sported a Renault sign, but they were willing to help, although I did have to communicate in French.The diagnosis was that my rear brake pads needed changing, which I was prepared to accept even though they had been OK'd at an MOT before setting out. As they had nothing appropriate in stock I agreed to return at 3 pm, after delivery of said brake pads to the garage.

I therefore had a bit of time to kill so among other things did some food shopping, but it was a really nice mountain day in which to relax, hot and sunny, 20 degrees at the middle of the day. What was really interesting is how precise an entity the border still is despite the years of the EU. It is now just marked by a little bridge over a stream and a road sign, but having crossed and re-crossed the border several times today, I found that French is spoken one side of the border, and Spanish(or rather, Catalan) 10 yards away. I visited two different little Carrefour stores, one on either side of the border ( well , I DID have some time to kill) and found the product ranges completely different. This I found quite odd as I thought that the practicalities of the EU would have done away with this as the two border towns of French Bourg-Madame and Spanish Puigcerda physically merge one into another.

Having realised that I wouldn't be going too far that day I also spent some of my time searching around locally for a campsite at which to spend the night, deciding that it would be even chillier than the previous night at this altitude, and some electricity for the heater would be good. Although several sites seemed available both on Google, and in my various site guidebooks,I had to try a number before I found an open one. Two were locked up, and the third had an open gate, but after driving in and wandering around it was some time before I found the caretaker.He eventually appeared but was only there to make a repair and it too was closed.Eventually after being directed from one to another I found one 3 km back in Spain. ("Camping Queixans", in Queixans village , which is largely a modern resort of alpine -style stone houses).

Apparently the campsites are only normally open around here at weekends this time of year as this is when people come up to ski. This site had several lines of caravans of various descriptions, looking as if they had been semi-permanently installed,but all seemed shut up and empty. The man who appeared to open the reception in response to my phone call to the number posted in the office window, had himself to make a call to clear it as being Ok for me to stay ,and I felt that the site was opened specially for me after some thought.The washing facilities were actually very smart, up and running,and centrally heated.

I returned to the garage in Bourg -Madame at 1500, and the boss himself got to work, clearly smelling of a liquid lunch, and chain-smoking throughout the procedure. I was advised (in French ) that the wheel bearings on the left rear wheel also needed replacing pretty soon, although I could go a few miles yet. I had rather feared that might be the problem. The old brake pads I was presented with, though still reasonably thick, were very corroded and apparently one brake was gripping too tightly, so the pads probably did need replacing. So in that case 0/10 to City Motors Renault Vans in Bristol who did the MOT at the start of February and were specifically asked to report anything that might not last 20,000 miles. The positive is that I would much rather these problems show themselves in France, amply endowed with Renault garages, than in other countries I hope to visit later. The unexpected mechanical issue is probably a reflection of the fact that I ended up not having time to do test runs in the van after completion of the build, and only managed about 500 miles in it in the 11 months since purchase.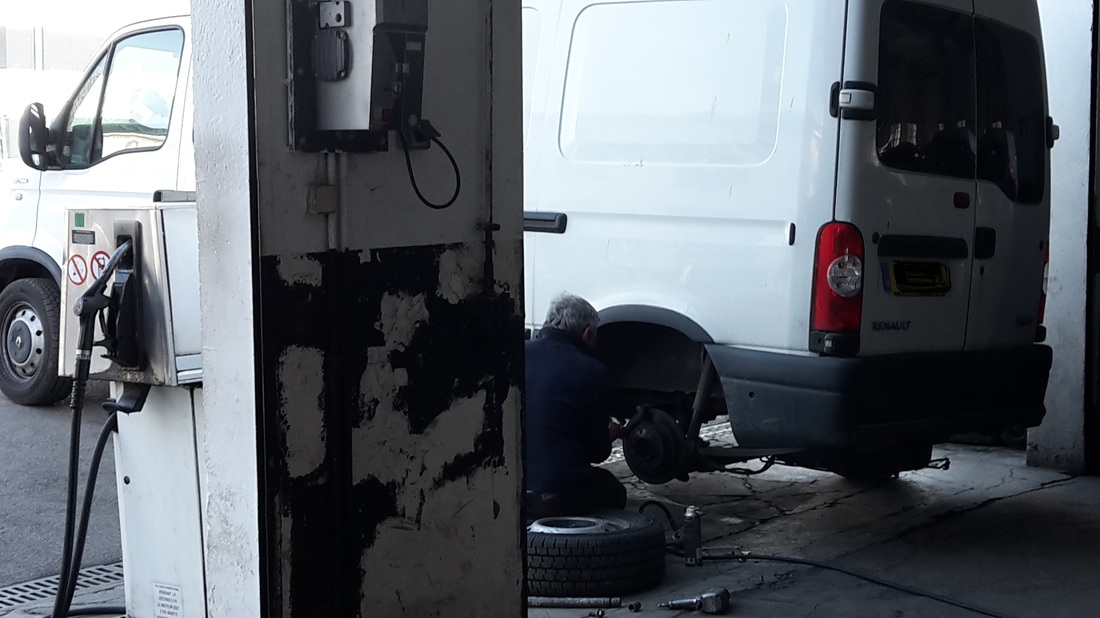 Emerging from the garage at 5 pm after a bill no worse than I would have paid at home, I decided that as it had been getting dark at about 7-30 I still had time to make the 50 min, 30 km, drive to Andorra and back before the light faded. This would mean I would have to retrace my steps again by 20km in the morning, but at that stage I would then have a free run down into France. I would also be able to test the result of the garage work this evening. So I headed off .There was no snow at this initial height (1200 metres) and I actually descended a bit on the road to Toulouse before the Andorra turning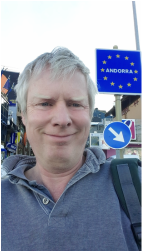 This was an interesting trip. It was a bright sunny evening, temperature 10 degrees so no risk of ice on the road (and I have got winter tyres on). After turning off towards Andorra there was a road with multiple hairpins heading up towards the snowline. Soon there was snow 4 feet deep either side of the road: after winding back and forth I reached the Andorra border in a deep snowfield and cleared Andorra customs (i.e. drove straight though a building with a row of unmanned checkpoint booths). After a further 1 km I reached the first Andorra town, El pas de la Casa; to progress further into Andorra you must drive from here into a tunnel several kilometres long .The whole place seemed to be a small concrete jungle built against a cliff in the middle of a deep snowfield –and wandering around it was clear that it was mostly a mass of cheap hotels and cut price duty-free alcohol and electrical goods outlets.
With the light fading I lingered just long enough to gain photographic evidence(for some reason, perhaps due to a change in mobile operators on crossing the borders, the GPS on my mobile phone tracker had stopped running) and then I headed back down to the campsite ,back through a bit of France ,and back into Spain again to the awaiting campsite at Queixans. Reassuringly the squeak on turning corners seemed to have disappeared, but time will tell!