I was up very early this morning to drive the 3 miles from Pirita marina to the docks below the city centre in order to catch the 8 am ferry from Tallinn. I was at the check-in at 6 a.m.Because I had been so keen I was rewarded with first place in the van line,and first on,first off on the Lorry deck.You always spot these things in retrospect, but there was a huge area of grass and gravel down by the docks serving as a carpark,2 Euros for 24 hours, which would have done fine for no frills campervanning in Tallinn, and this would have allowed me to have spent the evening in the Old Town. For the extra 18 Euros per night that I paid I got toilets and a shower and a view of the yachts at the marina.

It was a miserable day to leave Tallinn, wet, grey and windy, which was a big contrast to yesterday's pleasant weather. The cruise ships from yesterday had all gone, but as we were leaving,two more appeared and docked .There were about 30 coaches waiting on the cruise dock ready to transport the occupants the half mile to the Old Town. I was never a fan of cruises, but if every stop you make is so swamped by your own and other cruise ships' passengers, like the town was yesterday,then no port visit can ever be pleasurable.

Owing to my early start I was quite peckish when the ship's cafeteria opened and I availed myself of what was presumably either a full Finnish or a full Estonian.Either way,it was virtually identical to a full English,even down to the baked beans,except that instead of the fried bread there were cheese patty things.Interestingly, there was nothing else on offer, so I'm glad to see that we're not the only nation who eat unhealthy breakfasts.

We landed in the heart of downtown Helsinki at 1030,but I wasn't going to linger.As I drove out I could see that it is a 'proper' capital city with big buildings and big streets,like,say ,Vienna.I joined a motorway and headed 140km west towards Turku,which is a smaller city but once was itself the capital of Finland.This time I was definitely on a 'proper' motorway,and although the road ran through a lot of forest,it was undulating ,hilly and curving,with some tunnels;much more interesting driving than on the flat straight roads through the Baltic nations.

Turku is Finland's oldest city,dating from the 13th century.It is a moderate sized modern city now,I think with a population of only about 125,000.It has Finland's leading Lutheran cathedral which towers above the river(roughly the width of the Liffy in Dublin,so not wide)where I could see there was a buzzing restaurant area with a whole line of floating restaurants.My stop came a couple of kilometres further on, down the river, in order to see Turku's castle,Turun Linna. It's a huge hulking structure,with the white painted walls more reminiscent of a Scottish distillery than a fortress.There are some renaissance era rooms,and a medieval section.Having looked at the pictures,I didn't go in but instead headed 300 yards to its neighbour,the maritime museum(the Forum Marinarum).This was an impressive museum,and in my view better than the one in Tallinn.It is still a modern museum but doesn't waste time with interactive hydrographic rubbish,but has a spanking collection of historic vessels,some afloat and smaller ones inside,and it has retained a fair few ship models! These were in particular abundance in the section devoted to the history of shipbuilding in Turku,which was impressive,and only closed down in the last decade.It reminded me of Bristol a bit,with the shipbuilding yards alongside a not too wide stretch of river,and the ship models of all vessels made in the yards,were similar to those that were in the Bristol maritime museum( until that was done away with by some idiot).But eventually the yards moved downstream and have turned out quite a few of the cruise liners that plague Tallinn and Venice.It was bought out by Kvaerner(Norwegian) and then acquired by a Korean company which has only recently shut it down .Reading about this,I smiled at the typical Finnish response:the first thing the company did when closure was announced was set up a psychological clinic to counsel everyone.

The Museum ships included the very impressive Tall Ship,the Suomen Joutsen,which had been acquired in 1920 by the Finnish merchant marine as a sail training ship.There was also a recently retired Corvette,and a Minesweeper,all to be clambered over.The museum had a restaurant that was doing lunch.It was a buffet and I had to enquire how the system worked as it wasnt obvious.It was an all-you-could-eat Smorgasbord,for a very reasonable price(for Scandinavian country) of about £20 paid in advance.I managed a big meal with several courses and tried an interesting collection of preserved fish(smoked, pickled ,etc. )and several meats.


My final destination ,and evening stop,was Naantali, just 14 km further west.Two ferry lines to Sweden depart from just next to the Forum Marinarum in Turku,but the one I'm taking goes from Naantali,which is up another arm of the creek.There is a convenient campsite very close to the ferry port, and it is on a steeply wooded slope which tumbles down to the creek, and is very attractively just out of eyeshot of the small but industrial-looking ferry terminal. This was the only campsite where I was asked, apparently as an afterthought when the white van was spied from the office window, whether It was officially registered as a campervan. Of course I could truthfully say yes !

Naantali is described in my guidebook as "a lovely seaside town".I wasn't so sure that I was in the same place as I walked from the campsite into a modernist little town with a concrete square and a grid of modern blocks. The sight of an old church tower ahead inspired me to press on, however, and soon I had reached the very pleasant old part of the town,made of wooden buildings,leading down to a waterfront with jetties full of yachts, and restaurants bars,and cafes.This looks like a sailor's paradise, with wide tree-lined creeks going in several directions,and wooden houses with jetties dotted along the shore.With all the historic wooden houses,this reminded me of the Bay of Islands in New Zealand.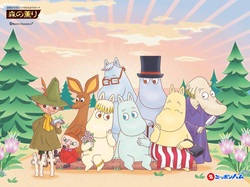 What I hadn't bargained for was Muumimaalma.This is a theme park on a small island, 200 metres off Naantali,reached by a long wooden bridge,and devoted to the Moomins,Finland's major cartoon export.I have to say these creatures had passed me by but I must confess I did recognise a picture of them when I saw it. I would imagine British parents of small children will think me an idiot for not knowing who they were-but they are all here waiting for you when you visit Naantali !.

But the whole thing was low key, and didn't detract from the beauty of the setting ,and I couldn't even see the car park which presumably must have been nearby.