I spent a quiet night on the quayside in Trieste: when I turned in for the night I was in a row of half a dozen or so other campervans, although when I awoke there were also some additional campers right next to me in the form of a Romanian couple fast asleep in the front of an old Ford Fiesta. They are doing it in style! There was still the strong cold northerly wind known as the Bora blowing down from the Alps (yesterday all the inhabitants of Trieste out for Bank Holiday Monday were wearing their down jackets and woolly hats)The Bora is apparently an example of a katabatic wind(geographers-please explain !) which is really chilly.

I set off south and was soon crossing the border from Italy into Slovenia, which are both in the Schengen group, so there is no border control. I slipped through just 10km of Slovenia before arriving at the Croatian border (sorry Slovenia!), having avoided getting onto the Slovenian motorway for which I would have had to have bought a pass .

It is perhaps 30 years since I made a border crossing by road at which I had to show a passport, so much do we fly everywhere now, so it was with mild excitement that I crossed into Croatia; really it should be no deal at all crossing from one EU country to another, but anyway I felt a frisson of mild adventure. The Slovenian official did look at my passport and asked "Only one?" looking my van over from inside his booth with an air of disbelief. The Croatian guy 5 yards further on just waved me straight through.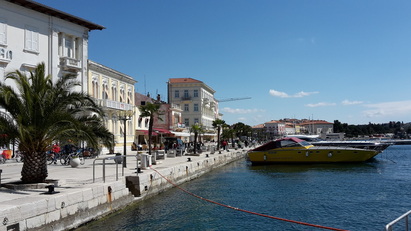 My first stop was Porec, a small seaside town with a Unesco World Heritage entry in the form of its 6th century cathedral Basilica of St Euphrasius .This had a few minor additions in the 8th century but we'll ignore those modern intrusions! The 6th century Basilica is wholly intact ,and still in use ,and Unesco describe this as being the most complete early Christian site in the world. Much of the surrounding episcopal complex is rather ruined, but excavations show 4th century Roman mosaics on which the 6th century cathedral sits .

The Rough Guide says that the area around Porec is the most heavily developed on the Istrian coast and is now a "package destination". It does concede that if you visit before May you may not notice this. I didn't see any signs of this, really : any development along the shores is low rise and doesn't show above the beachfront tree line. The small old town sits on a tiny peninsular, as so many Croatian coastal towns do. It was very pleasant to walk through, and had a nice harbour-front but other than the Basilica there was nothing of special interest, although there were masses of cafes and restaurants. The Bora wind was still blowing strongly, which made it quite chilly, though it was sunny, and the sea was choppy. Clearly visible across the sea to the north was the snow-capped line of the Alps. I saw one unfortunate tourist, who had stopped to open his case full of expensive looking cameras on a little wall facing the sea, when a sudden wave popped vertically up the wall and filled his case.


For lunch I picked up a big Borek from a bakery.These are a Balkan speciality,rather greasy crescents of filoux pastry containing either cheese or meat best eaten hot. l then rejoined the road and moved down south 30km to Rovinj, having a chance to try a little section of the Croatian motorway system, which uses a pay as you go ticket system like the Italian one. It is very new, and almost empty, but clearly the way to travel any distance through Croatia. The other roads seem good too, although habits may be different: as I waited at some traffic lights at a roadworks ,the traffic started coming the other way-a couple of cars and a van, then a guy on a motor scooter with his dog on a lead running alongside.

Rovinj is a bit more upmarket than Porec, and is a larger and very attractive old town built on a rocky peninsular which is crowned by an 18th century baroque cathedral. Rovinj was a Venetian city, and it is still also known by its Italian name of Rovigno (the road signs are bilingual). The cathedral was built by a Venetian architect around 1750 ,before the Napoleonic era (when Napoleon abolished the Venetian empire and Istria was under brief French rule).The town has a lot of charm: inside, there is a maze of alleys and steps, but it is a very much a lived-in town, and the main area of restaurants are outside, around the nice harbour on the south side of the town. The wind had dropped and it was really very pleasant to sit outside a café on the harbour-front in hot sun.

I am told that in July and August there are no free campervan pitches on the whole of the coast, but within 10 minutes' walk of the old town was a nice site, probably about a quarter full(i.e. still much busier than ones I've stayed at before Easter). There are a lot of families on holiday, mostly German and Austrian (whose territory this was, of course, between 1815 and 1918)