I have discovered where all the missing tourists are-Rome!

It turns out that I did have company at my camper spot last night, as some nocturnal campers turned up at 10pm.When I left at 10am in the morning they hadn't yet stirred. I joined the A1 motorway, the main motorway south, and headed for Rome,170km.The motorway is a good one with two lanes AND a hard shoulder(It must be a nightmare if you break down in one of the tunnels on the other motorway, with no hard shoulder ;in fact breaking down anywhere on it would be a huge danger)

The A1 follows the Tiber(Tevere) valley down from Umbria to Rome, and the landscape looks much more recognisable as possibly even English, with arable fields in the valley and partially wooded slopes of deciduous trees, yet to gain any leaves, on either side of the river. The Tiber is not a big river, of comparable size ,say,to the Severn before it reaches Gloucester. Notable within this pleasant but fairly unremarkable scenery ,I passed two large old hill towns standing on bastions of cliffs, which look worth a visit. One was Orvieto: I think the other was Orte ,a little further south.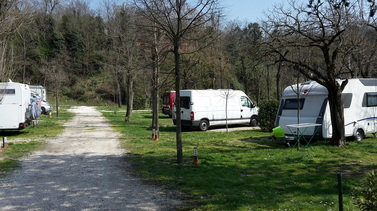 Serena the satnav got me through the Rome ring road system reasonably painlessly, although I did go round one bit of flyover three times before I found the right limb to come off on. 'Village Flaminio',the campsite in the northern subburbs of Rome,off the Via Flaminia Nuovo,is the poshest one I've been on yet.There is a convenient commuter station(Due Ponti ) 300 yards away that gets me into central Rome in 15 minutes, at the terminus at
Piazza
del Populo, near the Spanish Steps. The trains consist of the most disgusting grimy graffited set of rolling stock I've ever seen. Strangely, apparently one has to ring a bell, as if you were on a bus, if you want to stop at one of the stations on the way back, or you risk missing your stop. At the campsite, classical music plays in the very smart marble fitted toilet and shower block, and there is a bar and an apparently good restaurant. Fortunately with my out- of-season card it's a very reasonable 16 Euro a night.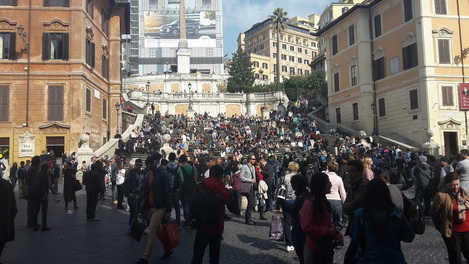 In Rome the touts who used to try to sell you sun glasses and leather bags have given up on those and now they all try to sell you are selfie sticks. I'm seriously thinking of getting one just to stop being hassled. I've also seen a handful of Welsh rugby fans, here early for the match on Saturday.

I have now knocked the Vatican City off my list of countries but the Vatican museums are shut today for one of those obscure religious days designed to frustrate visitors. I have given myself a full day tomorrow to go back into Rome and have a further look around.


In the evening I went to explore the campsite restaurant,up a little hill to one side of the resort.It has its own access road so I think is a semi-independent establishment.Inside it was very quiet with two couples eating but seemed very impressive,with a huge pizza oven in which were cooked not just pizzas but actually the speciality of the house which are huge roasts.In a refrigerated display cabinet were huge hauches of half animal,from which a butcher carved your selected cut before initiating roasting in the huge open oven, and then handed your care over to the dinner-jacketed waiting staff. And for a place that clearly had pretty large overheads, I found the menu very reasonable and enjoyed an excellent three course meal. I can only presume that they make their money in the much busier months of the summer yet to come.