The day started with a pre-arranged visit to Renault Vilnius to have a check-up performed on the van.On the motorway two days earlier it had inexplicably stalled at 90kph,but immediately restarted on the hard shoulder and has run OK since.I spent some time yesterday trying to locate an appropriate garage,and having spoken with the nearest main dealer I could find, an Opel franchise(Opel and Renault vans are one and the same vehicle)I arrived after some trouble finding it because my sat-nav address a was wrong, only to find that they felt they couldn't help. I was told that there was some subtle difference in the fault codes: frankly I didn't believe this, but had no choice but to search again, and 3 miles further round the ring road was a proper Renault dealer.They gave me a booking for a check-up for the next morning.

Having settled into the customer waiting area to read Lithuanian car magazines, I suspected I might be there a while, but things moved surprisingly quickly.They could find no fault code in the system,and also checked the pressure of the fuel injectors,which were apparently flowing fine.For something to do they changed the fuel filter,but were overall very helpful,all spoke perfect English and at £35 all in,for a visit to a main dealer in a capital city,it was very reasonable indeed.All this just took an hour,but it was pouring with rain,and had been all night.The forecast said that the weather was better in the north,which encouraged me in my plans to head onwards, and the forecast proved correct.

I headed up north almost to the Latvian border where it stopped raining,more or less,and I visited the small town of Birzai,where there is an old 16th century star fortress,which also featured a residential palace added in the late 16th century for the local Duke.As part of the defences an artificial lake was created on one side,of some considerable size.A treaty was signed in this castle in 1701 between Tzar Peter I of Russia and King Augustus of the Polish-Lithuanian commonwealth ,against Sweden ,during the course of The Great Northern War,a historical event I had never heard of .But 3 years later it was captured by the Swedes and the whole place razed.Like many historic places I have come across round here, the palace was rebuilt from a ruined shell in the 1980's,and now features an eclectic local history museum ranging through bronze age artefacts,medieval weapons,Tzarist Russian era photographs of local gentry,to Soviet era town sporting memorabilia.The staff(at least twelve),easily outnumbered the visitors(2)It was very clear that although all the young people speak excellent English,the older generation ,like the ladies who ran this place,usually do not speak a word,and we communicated by sign-language.

The housing situation in Lithuania is apparently in difficulty, with the country's legacy of poor quality communist era housing now all falling apart and needing urgent massive investment. Despite Vilnius having an attractive Baroque centre,the suburbs are dominated in by ranks of drab grey-brown Soviet era blocks of flats.As I drove up north on the A2 motorway,my earlier impression of the relative poverty of the countryside was re-inforced.There were quite a few smallholdings of tatty buildings with a horse and two cows tethered.Many of the villages seem to have unmetalled roads running though them,and I was surprised to see that some of the signed exit slip roads from the motorway led directly onto unmetalled roads.In the small country town of Birzai,much of the accommodation was of poor quality apartment blocks,and there was not really a clear-cut town centre,although after some searching I found a nice and modern café-bakery.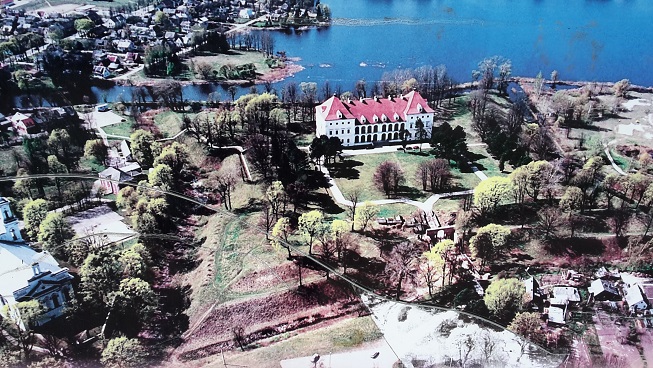 The Palace and star-fortress of Birzai with its defensive lake,best seen from this aerial view on an interpretation board.
I headed back a few km to the main road ,to a village camper stop in Pajiesmeniai,which features in my German guidebook.This is another place where the owners(the husband Dutch-it seems to be the rule that these out of the way camper stops have at least one foreign owner)use their lawn as a campsite and there is a toilet and shower in an outhouse.They were very welcoming and I was invited in for tea and cake ,where I also met 3 student volunteers on the little farm they run,2 from Holland,one from China. We had a wide-ranging chat and I was able to confirm the impressions that I had made myself,that the main European shopping chains have not yet reached Lithuania.This must be the first country in Europe where I have not seen an Aldi or a Lidl. Apparently the cost of electronic goods is more here than in western Europe and the standard of living and earnings very low:cheap European clothing chains do not seem to have moved in and apparently everyone,at least in the countryside ,buys all their clothes and other goods in second hand shops.What I had earlier taken to be Soviet-style drab old fashioned clothes shops with no window displays are in fact second-hand shops.Whereas I have seen big European clothing adverts like H&M ,Tesco clothing etc,all over Hungary and Poland ,there are none here that I have seen.I was also made aware of the damaging effect on the country that free European migration has had,with the population dropping from 3.5 million before independence,to 2.5 million,and this has taken the form of a brain-drain,with all the young able graduates tending to leave,producing a demographic time-bomb with the elderly left behind.And it seems that once gone,they are not expected to return.This is somewhat at odds with some of the economic articles I have read that suggest that although Lithuania has its challenges it has been doing reasonably well relative to some other EU countries.

On the other hand I was told that it is a really nice place to live,that the local people are particularly supportive to one another,and it is still a part of the world where people leave their doors unlocked.Also there is no shortage of space in this relatively underpopulated country and boundary disputes are unheard of .I heard of some interesting local traditions, especially in wintertime when stock-car racing on the ice of the frozen local lake becomes a regular event.

I got the impression that what they prize most of all is their independence and given they are independent now,no-one is complaining much about the economic situation.