Having run out of World Heritage sites this side of the French border, the main purpose of today's run was to establish a base camp for an assault on Andorra tomorrow .I drove 350km to the East, into northern Catalonia, and turned to the north just before Barcelona. Leaving Zaragoza, I could see the Ebro, beyond the constraints of the city, had burst its banks and spread over a wide area of flood plain.

Despite this inundation the remainder of Aragon, which I crossed,was still dry and dusty, the difference being that the dust today is more of a cream colour compared to yesterday's orange! But approaching the Catalan border, I began to enter a much greener area, the motorway wending its way through green valleys with pine clad hills. Despite having glimpsed the Pyrenees yesterday, they are invisible for most of the journey: I'm too low down and it's too hazy. But they appear again as I pass Manresa. I can't get out of my head that it's the old address of Chelsea College of Art, Manresa Rd, Chelsea –useless information !! The same thing happened as I was driving past Zamora in Castile: extremely annoyingly each time I saw a sign I couldn't stop thinking of Bobby (Bobby Zamora=plays for QPR)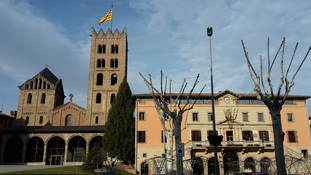 I was following directions from one of my guides to a known overnight camper stop, in the little town of Ripoll, about 60 km south of Andorra and just at an altitude of 750 metres. It is only a car park ,actually. It's pretty quiet but there are a few cars here and there's river running past. Its right next to the town police station.-it should be OK,although as it will be my first night not on a campsiteThe only snag is it also turns out to be right next to the rail line over the mountains to Toulouse and I am parked about 10 metres from the track ! The trains seem to come only every hour or so and hopefully I'll get some sleep but I have visions of that scene from the Blues brothers. As I watch out of my window there is a queue of slow moving traffic coming down the hill into town. Only a few cars are going the other way. I assume it's the queue of weekend skiers heading home.