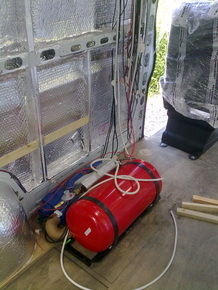 Fitted Bulk Propane tank(red) and Propex hot air heater(blue) behind.

The heater has an air intake for the gas burner ,and an exhaust,running to the outside of the van.Further ducts will suck air in from the living area,and pump it out hot

The gas tank has a filler hose going through the floor,and attached to the skirt of the van outside

Whether this combination of a gas tank,and a gas /electric heater under my bed will be an explosive mixture,time will tell !

Wires go everywhere!-all labelled for future connection.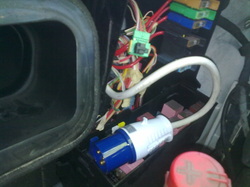 The 240 V electrical hook up point has been cleverly hidden under the bonnet(emerging from the fuse box)Should be an easy thing to connect up to the power supply by running the extension cable up from the ground,into the engine bay.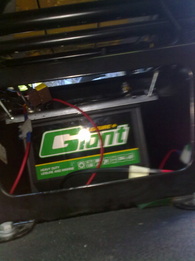 A pair of 12 V leisure batteries,one fitted under the driver seat,and one under the front passenger seat.The vehicle battery is in a box under the drivers's feet,so in close proximity to the new batteries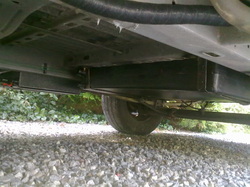 The 80 Litre water tank in the middle of the picture.In the distance is the smaller waste water tank.In the foreground is the air heater's air intake.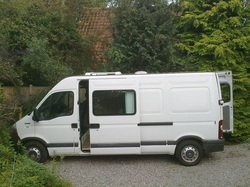 The solar panel is to the front of the roof.The living area skylight is to the rear(the bathroom skylight is hidden by the solar panel)

The LPG filler point is beneath the sliding door-satisfactorily invisible!