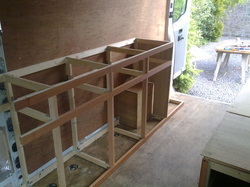 Frame is made of 20 mm x 42 mm pine,visible edges faced with stick-on veneer.The plan is for 3 drawers,with cupboards beneath,topped with a kitchen worktop in which will be set the gas hob and sink.The cupboards will be partly for storage but will have to be occupied by the water heater,pump and associated plumbing.Space is also limited by the wheelarch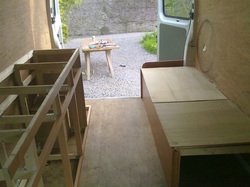 Careful measurement results in the kitchenette having to be much narrower than in a home kitchen,just 40mm.This allows for the central walkway giving the ability to walk right through the van,and is exactly the right width to allow the top of the bed to slide out over it to make a double bed. A removable table ,set in the floor,will be usable from the bed seat

Some builders build right across the back of the van.This gives some advantage in making maximum use of space,but you have no back windows to look out of,(either to look at the view or to aid reversing !)and you lose the versatility of being able to get in and out of the van by both the sliding door or the rear.Instead,I went for a walk-through layout.I imagine that parked up with a view over the beach,I will be able to sit in the van on a warm day with the doors wide open.Here's hoping!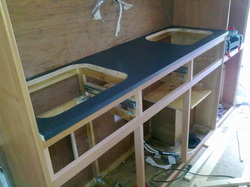 Worktop in place,and 15 mm laminated ply sheets making the wardrobe at the rear and the bulkhead at the fore.these are scribed to exactly fit the curved profile of the walls.A somewhat challenging task,needing a template to be carefully constructed from waste 3mm ply sheet,and cardboard.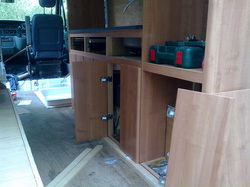 Cupboard doors going on.The basic structure was planned with the width of the doors in mind