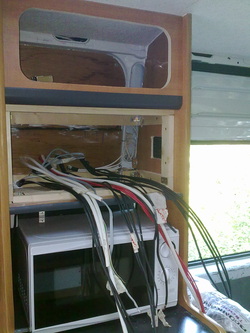 Between the bed and the sliding side door there is just enough room for a tower unit,seating ,from the bottom upwards,

Ducting from the heater,and filler pipe for the fresh water tank

The fridge(a Waeco 80L compressor fridge -running on 12v supply)

A worktop,with microwave(an ordinary domestic model,£25 from Tesco)powered from a 240 socket

Two shelf layers of electrics ,the ECU, 12V socket,and warning sensors.(Smoke,carbon monoxide and gas),the heater controls,and the solar panel display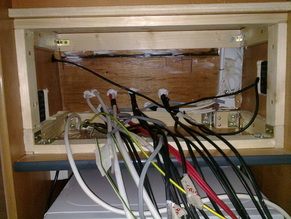 Wires everywhere.Help !!!!

Having finished building the utilities tower,with the previously installed wiring loom fed up into where the Electrical control unit(ECU) will be located,I handed the van back to my professional help at West Country Motorhomes,to have the ECU and controls connected up.