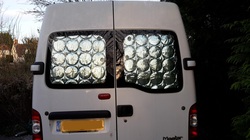 Two considerations here-privacy and insulation.With the van walls and ceiling thoroughly insulated,the doors and windows are the weak spot for heat loss in cold weather and heat ingress in hot weather.Retrospective tinting of the rear and side door windows with film have done already a lot to improve privacy-you can now only see in during daylight if you put your face up to the windows-and this should also reduce sun penetration in the summer.

To insulate the windows I have acquired a set of "Silver Screens",which are made of multi-layered quilting and foil.The cab set for a Renault Master was bought off the shelf from CAK tanks,but ones for the rear and side windows needed to be made for me from the basic materials. They adhere to the windows using sucker cups.They are supposed to reflect heat in the summer,but keep it in the van in cold weather.

Thanks to Sue Petford for the work!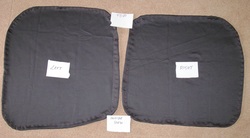 I decided that the silver screens advertise "camper van" from the outside ,so for secure parking during the day,and for privacy in non-extreme weather,I decided to also equip myself with a set of blackout curtains. To ensure a good fit I decided on exact cut outs, that will be fixed by velco,with one set of velcro sewn in to the curtains, and the other set of pieces fixed all around the window frames with epoxy glue.
Using a whole curtain( before cutting up the other in the set for the small windows),and a conventional curtain rail. I fitted a curtain which pulls across to separate the cab from the living space. I felt that this, when pulled across and when the cab is viewed from the pavement ,suggests an ordinary working van

These are a little crude but very effective.All that can be seen from the outside is black, even at night with the lights on inside.The epoxy glue is not quite as strong as anticipated,and a little care does need to be used when peeling the curtains off the windows. Thanks again to Sue Petford for the manufacturing !
Issues during use: The velcro strips ,stuck to the white-painted metal surrounding the windows,with epoxy adhesive(araldite), do tend to peel/rip off with time.The incidence of this is reduced if care is taken when tearing the curtains off the velcro when stowing away. A strip peeling/falling off is not a disaster as the epoxy comes away without trace from the painted metal. A spare tube of glue then allows periodic re-application of any loose Velcro strips.