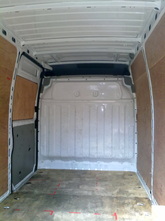 Clearly .it is important to be able to move from the front seats ,to the living area of the van,and vice versa,without getting out of one door and getting in through another .Fortunately the metal bulkhead is easily removable.


In this picture you can see I have started experimenting with a provisional layout defined by red sticky tape on the floor.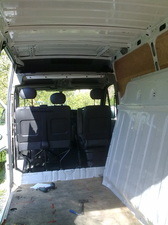 Bulkhead removed

The light is greatly improved,immediately.We have sacrificed the protection given to the driver and passenger from loose bits of load flying forward in an accident,but the furniture I will build will restore some of this safety barrier.Once the windows are cut in the back,the driver will also be able to see backwards while reversing.The windscreen has a slot for a rearview mirror to be added,any Renault mirror will fit.I got a Renault Scenic one on Ebay for a fiver.