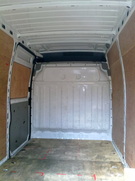 The walls and ceilings of panel vans are very thin metal,with none of the insulation and fabric covering that you get in a car.Strength is provided by bulkheads.(The thin walls actually make it easy to cut holes for windows,skylights and flues if you have a bit of confidence).Insulation is vital otherwise you will be extremely hot in the summer,and freezing in the winter.There is little point installing heating (I will be) unless the heat can be retained in the van.Also,with bare metal ,you get a huge amount of condensation in the cold weather.My van came with a bare ceiling,and plywood paneled walls and floor,standard for a working van.There is no insulation beneath the plywood.Having read about the problem,one needs to be aware of conduction channels that can defeat your attempt to insulate ,i.e. any metal or glass that is in continuity between the outside and inside,such as bulkheads,door surrounds,and windows,are channels for your heat to flee the van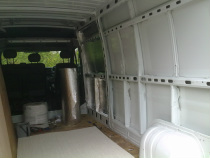 The first step was to remove the panels and the boxing from the wheel arches.Taking advice,I decided to leave the floor alone.Seeing converters describing their work on brand new vans,I see it is usual to lay underfloor insulation if you are staring from scratch.(you have to be careful not to lose too much of your headroom).However,the floor in my van is secured by multiple screws tapping through the metal floor.If they were taken out,it would be unlikely I could get the screws back in the same holes,resulting in multiple unnecessary perforations through the floor.With the panels removed,you can now see the walls are divided into "boxes".These are not regular shaped,and are of varying depths
What to insulate with?
There seem to be 3 main types of insulation used by self-builders.
| | |
| --- | --- |
| | I . Rockwool,or other mineral wool insulation roll.(or some have even used sheep's wool) I was told that these wool rolls,though easy to cut or tear,but difficult to hold in place while building, have the major disadvantage that they absorb and hold water,so if you have a leak,or condensation,you are likely to end up with rust problems in hidden areas. |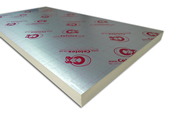 2) Cellutex ,or Kingspan. these are lightweight foam slabs,easy to cut ,but not flexible.A lot of people seem to use these,but I think that they are no use at all for my van walls and ceiling ,which are curved,irregularly shaped and which have sections of different depths .Trying to bend them round a curve often results in them breaking .Cutting to shape would be a nightmare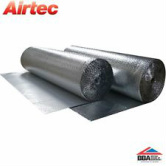 3) Silver foil lined "bubble wrap".Cheap varieties are used to go behind radiators in houses,but there is high spec stuff too,for which the makers claim a single thickess (of about 4mm) has the same insulating properties as a 50mm cellutex panel.So I went for Airtec.Not cheap at at £90 per 50 metre roll,but 2 of them will be enough to do several layers for my van As it is so thin,light,and easy to work with,I plan 2 layers on the walls,and three layers on the ceiling.