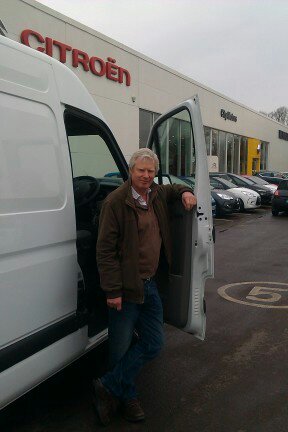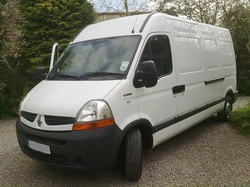 On a rainy April morning in a Bristol industrial estate...the story begins.
Courtesy of City Motors, one Renault Master ,Long wheel base, Special Edition ,LM35dci 120 Extra,Medium roof van.

No,not a Transit to get lost in,after all.

How to choose a white van to convert to a camper?
I wanted something I could stand up in comfortably,and with length less than 6m,thus not too hard to manoeuvre (and apparently a useful cut-off length for certain ferry booking price structures.)
It needed to be bog-standard white(both for anonymity/stealth ,and cooler in hot weather)

The choice is not as wide as you might think.A Ford Transit was the original inspiration -but If you want something you can stand up in,then a Transit turns out not to be much use, as they have a high floor,hence not very good headroom,unless you go for the ultra high top.Renault Masters,Opel(Vauxhall) Movanos and Nissan Interstars are all the same van,made in the Renault factory.They have good headroom(about 1.9 metres) ,even in the medium height version.You see a lot of Renault Master minibuses and ambulances about-presumably for this reason. Should also have good parts availability in Europe?,... we'll wait and see on that one.
The Special Edition Extra comes with reversing sensors,really handy for someone not used to reversing a long wheelbase van, and aircon.... surprisingly rare in white vans and could come in handy in hotter climes.
The professional convertor's favourite ,I later learnt,is actually the Fiat Ducato/Peugeot Boxer(again ,one and the same van),as they have the widest loadspace area and you can just fit a 6 foot bed crossways across the van .Another advantage of the Ducato is that the spare wheel is slung under the chassis as a standard.The panel van version of the Master comes with it strapped in the load area,and I had to later have it specially underslung.The third doppelganger van available is the Mercedes Sprinter/Volkswagen Crafter,tends to be good Germanic quality ,popular,but a little more pricey than its competitors.

Anyway,a suitable Renault Master turned up,local,from a reliable main dealer ,"one careful owner" ,70,000 miles on the clock and just 3 years old,so we were off...............