As mentioned in the planning stages,I have fitted an 80 litre freshwater tank under the van.The filler point is inside the van,behind the 3rd seat,just inside the sliding side door.Water is then drawn up from the tank on the other side of the van under the kitchenette,by a 12 volt Shurflo pump.This feeds cold water to the kitchen sink,and the washroom,and water to the heater,a Truma Ultrastore heater.This has a 10 litre capacity,and heats water using gas,or 230 V electricity,or both simultaneously.Hot water is fed to the kitchen and washroom, alongside the cold.

There is a smaller underfloor grey water tank,draining from the kitchen and washroom sinks,but the shower tray drains direct to the ground (or a bucket)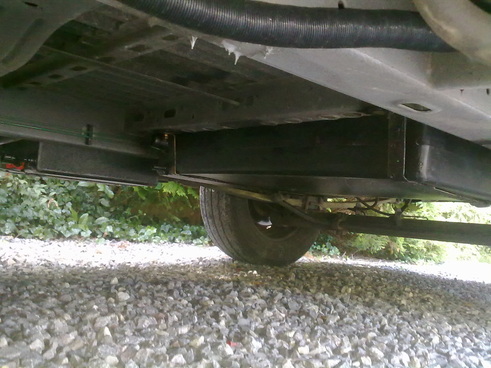 Waste water tank
(to the left)

Fresh water tank
(to the right)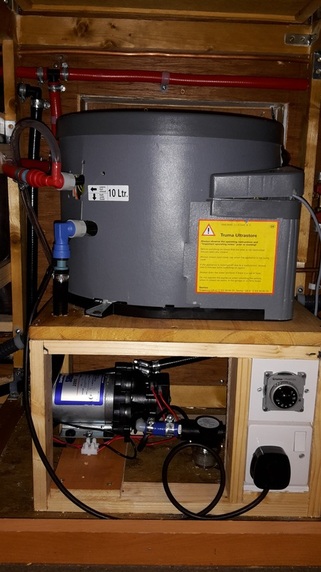 Under the kitchen worktop:

The Truma Ultrastore water heater.
This had to be raised on a plinth to allow the flue to exit above the plastic external trim on the wall outside.

This left room for the Shurflo pump to be fitted beneath.

The pipes are colour coded-red for hot,and black/blue for cold.